Our fully Guaranteed Restoration Service...
All movements guaranteed for 3 years. 


Collection & delivery service throughout the United Kingdom & Europe. 


Over 100 years of combined restoration experience. 


Our Family Business has now been established for half a century. 


Worldwide Restoration service available. 


For 50 years P A Oxley have restored and maintained literally thousands of antique clocks and barometers. Only the most skilful and experienced specialists are used during the restoration process with an inclination to repair rather than replace wherever this can be achieved. 
Traditional methods are used in both the restoration of the movements, dials and also the cabinet restoration.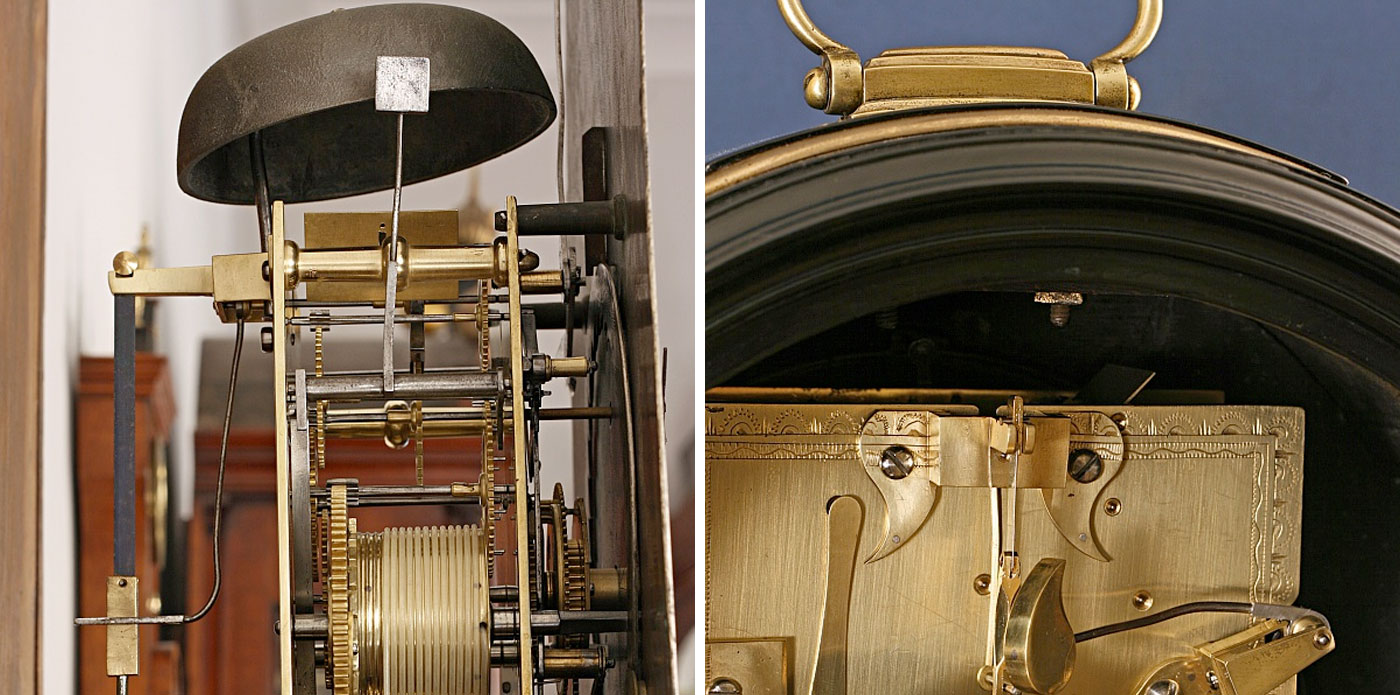 Contact us...
If you would like us to supply you with a quotation for the work required to your antique clock or barometer then please contact us. Our full details can be found on our contact page. Items can be collected locally or brought into our Showrooms in Cherhill for inspection. For further afield projects we can organise collection and delivery by a fully insured carrier..
Please supply as much information as you can, including images of the item. This will enable us to give you a very accurate estimate for the work required. All of our full restoration work is guaranteed for 3 years and a full written quotation will be provided setting out the work involved and the estimated time of completion.
Clock Restoration...
This particular clock dated to C.1765 was bought privately by P A Oxley having been in the same family for at least one generation. Both the movement and case had not been touched for many years and although very original it was in a completely unrestored condition.
You can see the difference after restoration from the two images of the main Strike/Silent dial to the top of the arch. Everything on the restored image is exactly as it was before but now after being carefully cleaned and re-silvered the engraving is much clearer.
This silvered decoration is typical of the longcase clocks made during the 17th and 18th centuries. The silvering starts to deteriorate after 20-40 years depending on the environment.
Dial Restoration...
The dial is completely disassembled for the restoration process. All six spandrels were cleaned carefully so as not to remove any original gilding and then lacquered. The brass dial plate is also cleaned and lacquered. This includes both matted centres which as you can see do build up a great deal of grime and dirt over the years.
All of the engraved dials are also cleaned back to the brass and then re-silvered using the same traditional method that would have been used when the clock was originally made. The hands are also lightly cleaned and re-blued where required. The hands on this clock had been painted black in the past which is quite a common but obviously incorrect restoration.
Movement Restoration...
This sort of condition is sometimes called 'a sleeper'. After many years of use and no actual restoration or a service this is the result.
The movement was in need of almost a full set of bushes but both the strike/silent mechanism and the date wheel had survived intact. These are often removed or damaged over the years.
This particular clock is now ready to serve its next owner for another 5-10 years.
Barometer Restoration...
As well as selling and restoring antique clocks we have also built up a huge knowledge of Mercurial barometers. These are normally around three feet long and are either driven by a single tube in the case of stick barometers or a U shaped tube with wheel barometers. Both examples can be restored back to their original condition even down to replacement and bespoke made thermometer tubes as these are very often broken over the years.
Where possible the stick barometer tubes are retained, cleaned and repaired but very often they do need to be replaced completely as do the wheel barometer tubes. In most cases the tubes have already been replaced and either do not fit correctly or are already broken. The cabinet work can also be restored to our usual high standards with skills such as inlay and moulding repair.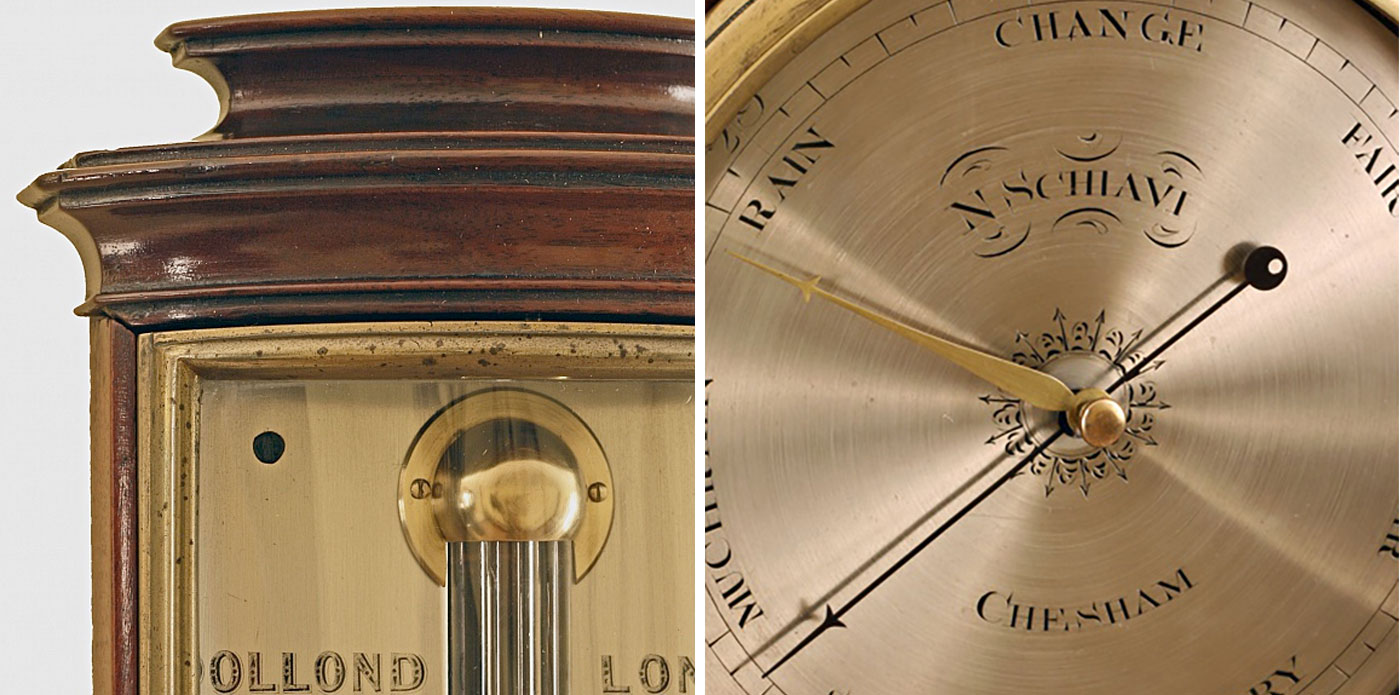 Cabinet Restoration...
Our Cabinet Restorers have over 40 years of experience and knowledge to enable them to restore your treasured clock or barometer back to its original condition. Whether its a late 17th century marquetry longcase clock which requires extensive restoration or a Regency mantel clock with minimal work required, we can work with you every step of the way to achieve your objective.
Examples...
The fist photograph below is an oak longcase clock restored recently for a customer whose wish was to return the clock back to its former glory. There was extensive damage to the fretwork top and the base had been reduced in the past which made the clock look out of proportion. We carried out a complete restoration which involved repairing the fretwork top, stabilising the case throughout and rebuilding the base to the original proportions.
The next photographs was quite an unusual project that we carried out for a customer some years ago. They had acquired an original C.1720's movement and dial but the case had sadly been lost.
They asked to us make a new case in the style of the period but the clock had to be a certain height to fit into their home. The case was not only made in the style of the period it was also to be constructed using methods that were traditionally used in the early 18th century.