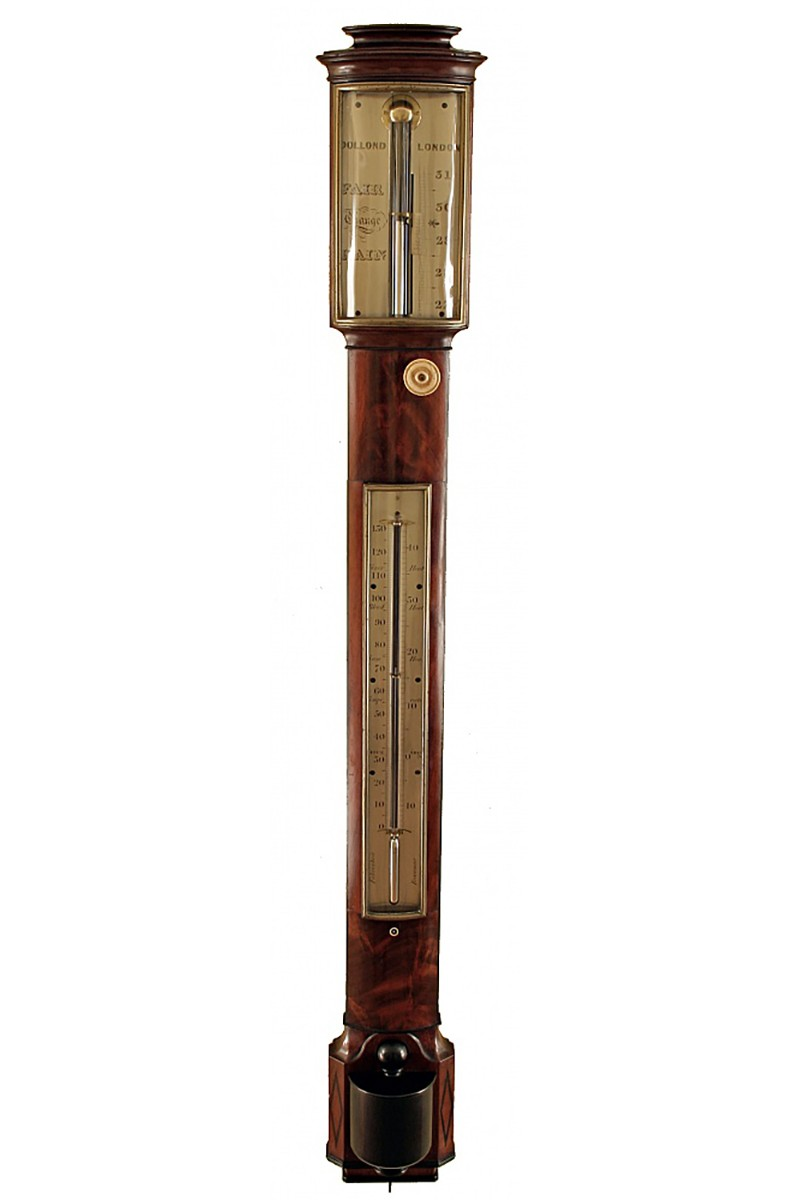  
Bow Fronted Stick Barometer by Dollond of London
£10,838.00
Save £1,912.00
Tax included
ITEM SOLD
An exceptional Bow Fronted mahogany stick barometer by possibly the most renowned Instrument makers of the 19th century.
The silvered brass scale is calibrated from 27" to 31" and is engraved with typical weather indications and the makers name Dollond of London.  The main scale also features a sliding rack and pinion vernier controlled with a bone set key and is surrounded with a substantial brass framed moulding with original bowed glass. The silvered brass thermometer is calibrated from 0º to 130º Fahrenheit and from 10º to 40º Reaumur and is also contained within a substantial brass framed moulding with original bowed glass. It also features an extremely rare temperature recording marker which is controlled using the aforementioned bone set key.
The high quality and substantially made mahogany veneered cabinet work has flame mahogany veneers to the bowed front, ebony mouldings and line edge inlay throughout and a typical ogee moulding above.  To the base we find a solid ebony cistern cover, ebony mouldings, further ebony inlay to the sides and a transportation screw built within the case.
An exceptional Instrument.
Note: The Dollond family were prolific and excellent instrument makers. We can determine from its style that this barometer is by George Dollond. Like his famous Uncle Peter Dollond, he was also instrument maker to William IV and Queen Victoria and was one of sixteen instrument makers who exhibited at the Great Exhibition, Crystal Palace in 1851. Born in 1774, George was in Partnership with Peter Dollond until he died in 1820.  George then continued the business until he died himself in 1856.