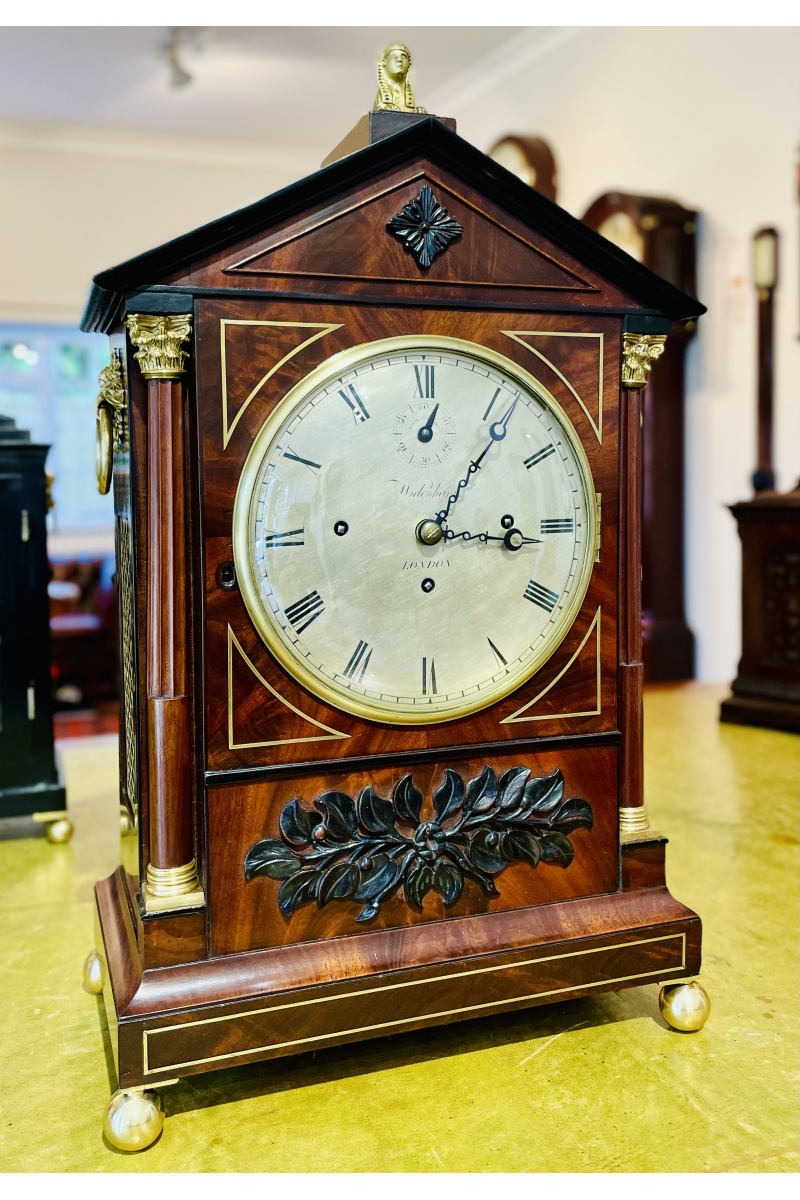  
An exceptional quarter striking bracket by Widenham of London
ITEM SOLD
Just Arrived - June 2023
An extremely rare and impressive Regency bracket clock by Widenham of London with Egyptian Influence.

This clock features a substantial triple fusee movement which strikes the quarters on a row of 8 bells and the main hour on a larger bell. The striking mechanism can also be repeated at will and also made silent if desired.
The dial has beautifully made blued steel hands of an unusual design and a very rare regulation dial below number XI.
The impressive mahogany veneered cabinet features a solid brass Sphinx to the architectural pediment and ebony and brass inlay throughout. The brass capped mahogany pillars are mounted with Doric capitals to the base and Corinthian capitals to the top. There are also elaborate and ebonised carvings above and below the main dial depicting leaves.
Also featuring brass fish scale sound frets to each side and decorative carrying handles. The whole case standing on solid brass ball feet.
Note: Richard Widenham was a very fine maker and noted particularly for his chronometers winning the Admiralty Premium Trials in 1824. He worked at 6 East Street, Clerkenwell between 1830-35 and afterwards at 15 Lombard Street.
He subsequently advertised as 'Watchmaker to the Hon. Board of Admiralty. It's quite possible that this clock may have been made for perhaps an Officer in the Admiralty or indeed for the actual Admiralty offices in London. 
Fully restored and Guaranteed for 3 years.