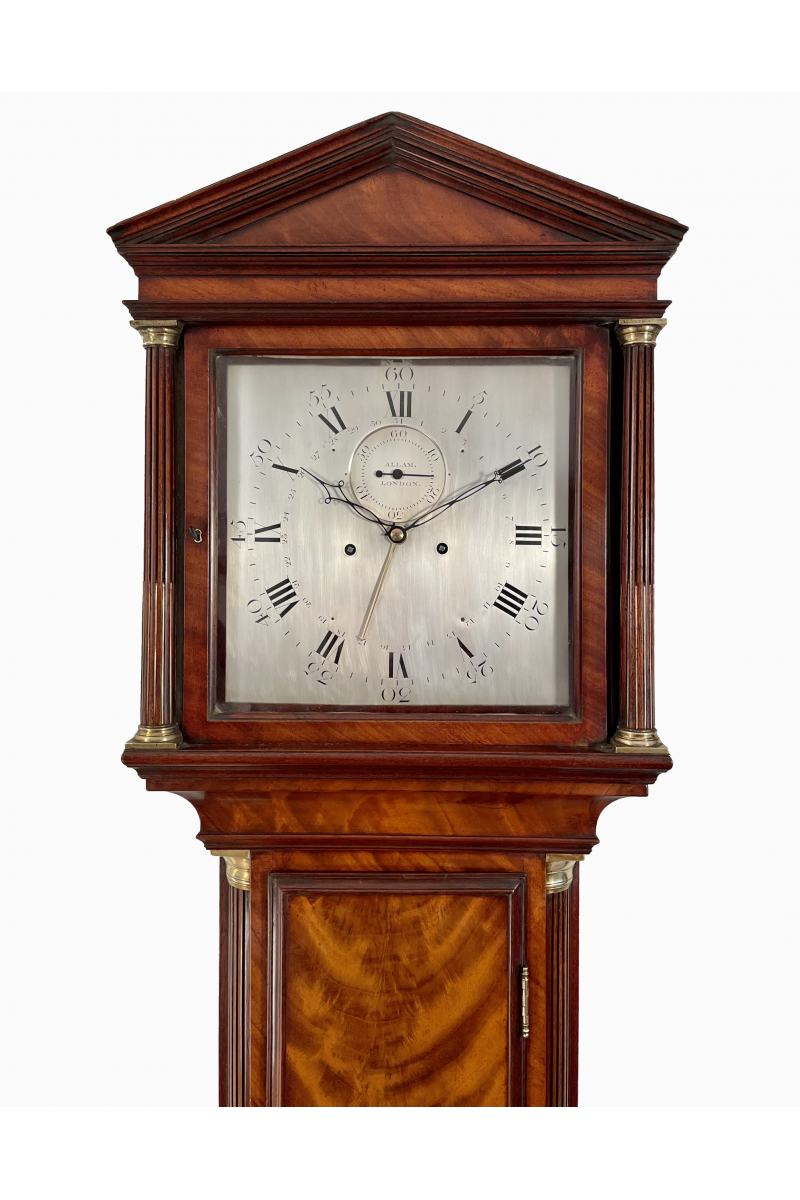  
Exceptional London longcase clock by Allam of London
£15,000.00
Save £4,750.00
Tax included
ITEM SOLD
An exceptional London mahogany Longcase Clock by this highly inventive Clockmaker with Vulliamy style features.
The high quality 8 day duration movement features 5 pillars and strikes the hours on a bell. The 12" square silvered brass dial with Roman numerals, Arabic minutes, sunken seconds, rare centre date and a strike/silent facility above XII. The dial also with exquisitely made blued steel hands.
The elegant cabinetwork featuring the highest quality flame mahogany veneer throughout which has faded to an almost satinwood colour over the last 220 years. The trunk door is framed with brass inlaid quarter pillars terminating in brass Doric capitals. The base also with a flame veneered raised rectangular panel and a plain double plinth. The hood with brass inlaid separate reeded pillars with brass Doric capitals, quarter pillars to the rear and a Vulliamy style architectural top.
Fully restored and guaranteed for 3 years.
Note: William Allam appears to have had some influence from several famous Clockmakers during the 18th century such as Mudge, Dutton and also Vulliamy.
The use of a square dial in London at this late period is also rarely seen and a style used by the famous Clockmaker Vulliamy. This very fine antique clock also features two original brass covered weights, one larger than the other and a heavy pendulum bob with calibrated rating nut.
William Allam was Free of the Clockmakers Company in 1743. Working alone at the beginning of his career he then joined in partnership with Clements in 1763 and worked until the late 18th century.