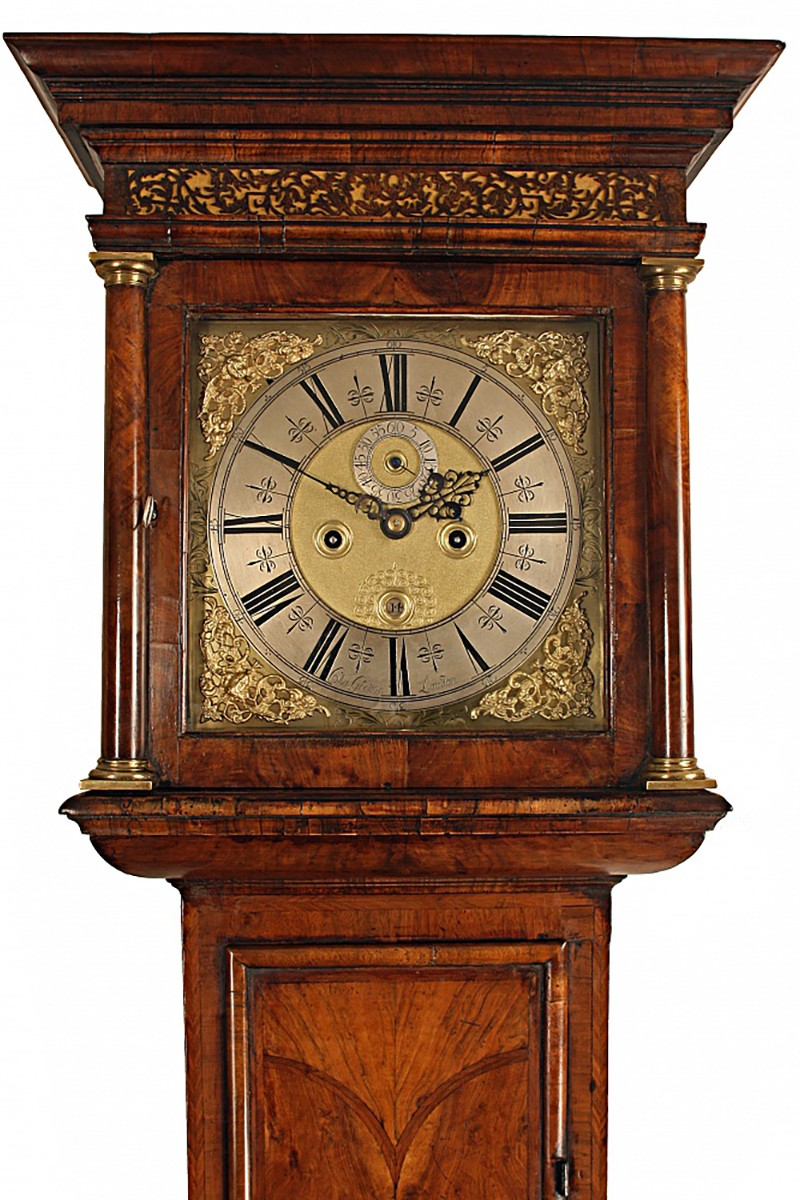  
17th century Walnut longcase clock by Charles Gretton of London
A fine 17th century  walnut longcase clock by this eminent maker, made during the 'Golden Age' period of Clockmaking.
The 8 day duration movement with five latched finned pillars, recoil anchor escapement and the hourly strike is enabled via an inside countwheel striking mechanism.  Both the latched pillars and countwheel striking were features of this period of Clockmaking and were used by only the finest makers.  The 11" square brass dial features a silvered brass chapter ring and seconds ring.  The matted centre has ringed winding holes and a matching ringed date aperture. The date aperture surrounded with circular designs.  Also with typically used spandrels of the period and engraved tulips to the main dial plate in between each spandrel. Signed Charles Gretton, London on the chapter ring. 
The veneered walnut case is of exceptional quality with herringbone inlay to the front and sides and with bookmatched walnut veneer to both the trunk and base.  Also featuring extensive crossbanded veneers and mouldings throughout the cabinetwork. This style was extensively used on all forms of furniture at this stage of the 17th century. The flat top hood is framed  with brass Doric capitals to the walnut veneered pillars.  Also with quarter  pillars to the rear and glazed viewing windows to each side.
A superb opportunity to purchase a rare longcase clock from this early period.
Note: Charles Gretton was born C.1649. He was apprenticed to Humfrey Downing in June 1672 and gained his Freedom of the Clockmakers` Company in 1672. Gretton was first thought to have worked from The Ship in Fleet Street until around 1685 where he is recorded `in Fleet Street over against Sergeants Inn Gate`. He was made Assistant of the Clockmakers` Company in 1689, Warden in 1697 and Master in 1700. He took on many apprentices throughout his prolific Clockmaking life.
Price includes delivery and 3 year guarantee
You may also be interested in
18th century stick barometer by Peter Dollond of London
Circa:

1775

Height:

41"
Regular price
£10,950.00
-£1,642.00
Price
£9,308.00
View More
An impressive Month duration walnut Longcase clock by Charles Cabrier - London
Circa:

1730

Height:

9'6"
Regular price
£29,500.00
-£4,425.00
Price
£25,075.00
View More
Rare London Longcase clock by Barber of Stratford
Circa:

1775

Height:

8'8"
Regular price
£24,500.00
-£3,675.00
Price
£20,825.00
View More